As many of you will have noticed, I made a few changes to my blog last week. I changed the appearance (something I do quite a lot, call me restless), and I added a few buttons down the right hand sidebar as well. This is because I'm hoping to draw more people to this blog, maybe get a few more comments - because although I'm painfully introverted, I do love to get to know people (I just fear getting out there to do it!). I would love to hear more from readers. Say hi! I don't bite! If you don't agree with anything I write - tell me why, I am always open to fresh perspectives!
One place I found, online, to meet new bloggers is Blog Love. This cute little button will take you to their site and you can list your own blog there and get to know other bloggers as well!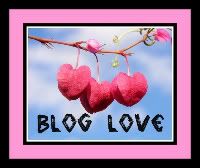 So, hop on over and check it out!